5/11/16
Product Comparison: Pole Camera vs. Long Pole Camera
Which one is right for you?
Tactical Electronics offers two versions of pole cameras, both allow you to extend a camera to significant heights and distances, while viewing wireless video on a handheld or wrist mounted monitor. Both cameras were designed to give operators video intel into attics, second stories, stairwells, and other hard to reach areas; without having to expose themselves to the threat.
The Pole Camera is one of our most popular inspection tools. The standard pole camera was also one of the first products we created over 17 years ago. A few years later we introduced the Long Pole Camera to offer operators more height without having to add multiple pole extensions. So which system is best for your team? That choice comes down to operator preference and how the camera will be used most often. Below we define the key features of each system and show you the differences in each.
Key Features:
Wireless video transmission
Collapsed length of 23 in
Extended length of 80 in
Rotating camera heads
10 IR LEDS on B/W Camera
Weighs less than 3 lbs
Hard-wire video output
Flexible rubberized neck
Up to 8 hours runtime
Submersible in up to 30 ft of water
---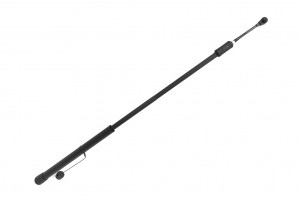 Key Features:
Wireless video transmission
20 ft collapsible pole
Rotating camera heads
8 IR LEDS
Weighs less than 4 lbs
16 hours video recording capacity
Flexible rubberized neck
Up to 2.5 hours runtime
SD card recording
Post operation review
This video identifies even more differences between the two camera systems:
If you have additional questions about either camera system or want to demo the pole camera or long pole camera please contact us or leave a comment below.
See additional Pole Camera videos on our YouTube page.